Dentistry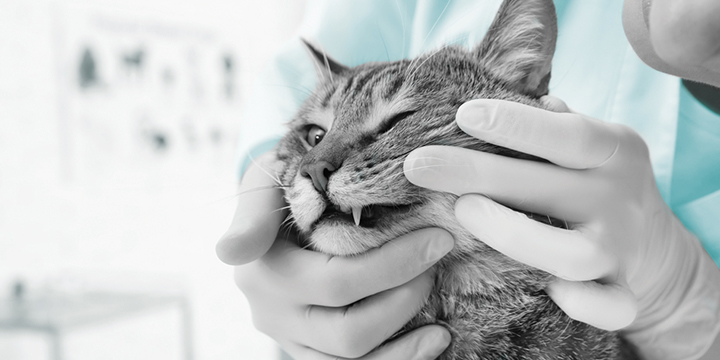 Dentistry
With around 80% of pets over the age of three having some form of dental disease*, getting your pet regular dental checks with your veterinarian is so important for their overall health and wellbeing.
Not only can dental disease cause pain and bad breath, but it has also been associated with heart, liver, and kidney problems for our pets.
Check out our FAQs below to find out more about what to look for in your pet, ways you can help at home and what is involved in a dental procedure at the clinic.
* Statistic based on Australian research and applies to pets 3 years and over.
Frequently Asked Questions about Dentistry
What is dental disease?
Dental disease can manifest as inflammation of the gums and mouth, broken teeth, resorptive lesions and other changes in the oral cavity. A contributing factor to dental disease that you as an owner can influence is plaque. Plaque is made up of food particles, saliva and bacteria, which sticks to the surface of the tooth and if not removed it will calcify into tartar and progress from there.
Dental disease occurs above and below the gum line and over time can lead to the destruction of the supporting tissue of the teeth including the bone, resulting in bad breath, oral pain and loss of teeth.
Dental disease is very common and is the leading cause of early tooth loss in cats and dogs. If left untreated, and the dental disease advances, it can contribute to heart, liver and kidney problems.
How can I tell if my pet has dental disease?
There are a number of signs that can alert you to the possibility that your pet is living with dental disease. Your pet may show any number of these signs, or no obvious signs at all, so it is vital that your pet has a check up with the veterinarian every year, even while you're following all the preventative measures.
What do I do if I think my pet has dental disease?
Regular health checks will help to identify any development of dental disease and will allow your veterinarian to discuss the best management plan for your pet.
For adult cats and dogs with existing dental disease, a dental treatment with a scale and polish under general anaesthetic is often necessary to get their mouth back into top condition. This will allow us to start preventative measures with a clean mouth.
There are things you can do at home such as introducing vet diets, in particular dental diets, that can significantly reduce the development of tartar. Your vet may prescribe a dental diet for your pet at their health check.
Some chewy treats are also specifically designed to reduce tartar, promote healthy gums and freshen breath.
If your pet is calm and relaxed, daily brushing of their teeth with a specially designed pet toothbrush and pet toothpaste is also very beneficial.
My pet needs a dental. What will happen?
To allow the veterinarian to perform a thorough examination and dental procedure of your pet's mouth they will need to undergo general anaesthesia. Animals are not all that good at sitting still with their mouths open for long enough!
On the day of your pet's dental procedure
The veterinary team will have discussed how to prepare your pet for the dental day in the previous appointment or when booking the procedure. For cats it is also helpful to keep them inside overnight so that you can find them on the day!
Pets will usually come to the veterinary clinic the morning of the dental. In some cases, they will need to be admitted to hospital the previous day.
There will be forms to fill in when you bring your pet in, then one of our caring veterinary team will settle them into the hospital ward. It is important to arrive at the clinic on time to allow time for this process.
The veterinary surgeon will give your pet a thorough pre-anaesthetic examination and a catheter will be placed into a vein. A small area of fur will be clipped on one of the forelimbs to enable this. Any blood testing that has been agreed upon will also be done at this point.
Pets will be given sedation before their dental to help smooth the transition to general anaesthesia.
What happens during the dental procedure?
Your pet will have general anaesthesia during the dental. This will be given through an intravenous (into the vein) injection and via a gas that is inhaled through a tube in the trachea (windpipe). Pets will also be placed on IV fluids to support their blood pressure and hydration.
Some procedures may require extra pain relief during surgery via local nerve blocks. This helps your pet feel more comfortable after surgery too.
Throughout the procedure your pet will be closely monitored by our qualified veterinary nursing team.
The veterinarian will examine your pet's mouth, checking the mouth, teeth and gums closely. Dental x-rays often need to be taken and in some cases unhealthy teeth may need to be removed, in addition to the scale and polish.
What happens after the dental procedure?
After the dental, one of our team will contact you with an update on your pet and arrange an appointment for pick up.
Our veterinary nursing team will continue to monitor and care for your pet during the recovery time. They will make sure your pet is comfortable, clean and warm.
Generally, pets can go home later in the day of their dental if they are up walking and comfortable, with any pain controlled. Occasionally the veterinary surgeon may recommend a pet transfer to a 24-hour facility for further monitoring or treatment.
Follow up and at home care
Your veterinarian will provide specific aftercare instructions when you pick up your pet after their dental. It is very important that these instructions are followed, including:
Giving a small meal that evening
Giving any medicines as directed
Attending follow up appointments
If you have any difficulties or concerns about your pet after their dental, contact your friendly clinic team for assistance.